The Myth of the Free Volunteer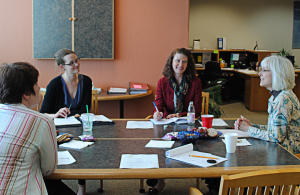 National Volunteer Week, April 10-16, is a time to celebrate those who volunteer. Volunteers are the backbone of any community, providing services that would otherwise go unmet. Although the time a volunteer gives is free, have you stopped to consider the time and energy needed to recruit, organize, direct, and of course, thank them? Nevada Volunteers knows that volunteer coordinators, whether they are paid staff or volunteers themselves, are a vital part of strengthening volunteering in Nevada, and why we focus a good deal of effort in reaching out to them through our website resources and trainings.
Being a volunteer coordinator is a big job. At a recent meeting at the Nevada Volunteers office in Reno, I listened in on a discussion of the challenges two volunteer coordinators face. One of the coordinators, Heather, has been working to set up a volunteer program from scratch, and perhaps the biggest challenge she faces is to educate others about the enormity of the task. "I know how time intensive it is to manage volunteers," she said, and though her new volunteer program will increase the capacity of her agency to fulfill its mission, those volunteers will need a lot of training and supervision to be effective.
Another coordinator at the meeting agreed. She runs a huge and very diverse volunteer effort which contributes over 50,000 volunteer hours a year to the community. She is committed to keeping the program strong and responsive to the volunteers, but she doesn't have time to reach out to the over 1,000 volunteers who are in her program at any given time. That is why her goal is to recruit a volunteer coordinator from the pool of volunteers in the area to do that essential work.
As National Volunteer Week approaches, it is good to recognize not only the generous contributions of our many volunteers but also the time and energy of the volunteer coordinators that make the volunteer event or program a success. Indeed, one of the most effective ways to help an organization meet its mission is to ensure the resources and support needed for a volunteer coordinator.
This Volunteer Week, consider whether you could be a volunteer coordinator. Remember volunteers are not completely "free," so you can double, triple, or even expand tenfold the energy you commit to an organization by helping others do good while you do good as a volunteer coordinator.
Share This