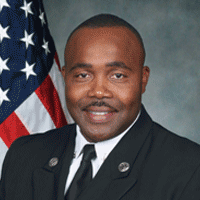 North Las Vegas Fire Department
I serve because I first believe in the purpose of the organization, it gives me an opportunity to also spread the message of service to community, and I believe seeing the work that the organization and other nonprofits do help motivate me to continue as a public servant and commissioner.
Cedric is currently a Captain with the North Las Vegas Fire department. He serves as the public information and community liaison officer. His current position connects with service as he is in the community providing education, prevention, mentoring, and quite often volunteering to the community that he serves in the Las Vegas valley.