Roadpost #3: Definitions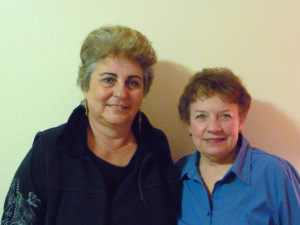 Sandie and Donna wanted to talk about definitions. These two long-time friends were ready for a good discussion and they weren't afraid to challenge my assumptions. I had come to ask them how they felt about volunteering, but their comments about the definition of volunteer proved far more valuable.
Sandie and Donna have big family obligations. They are always on-call to help with their many grandchildren—with doctor appointments, early school pick-ups and such—so their children can work. As Sandie said, "In some ways we are volunteering, although it is not the traditional definition of volunteering, because we are giving up our time when they call us." She added, "You get up in the morning and think the whole day is going to be yours, and then the phone starts ringing."
That is why my questions about traditional volunteering irritated Sandie just a little. "I'm doing all these things, but they don't count." Mentoring grandkids, counseling unemployed family members, taking care of elderly parents—all of these would be considered volunteer positions if they involved clients who were not family members, and so they should have equal value. "If you are taking care of your family," Donna made clear, "then they won't need outside services."
Donna really hit the nail on the head. Service to the community comes in all forms. Some people work more from within the family, instead of volunteering outside it, and all their caring, giving, serving, and supporting strengthens our communities. As a nation, we don't measure the service that people give to their families in any quantifiable way, but it is definitely a high-value community asset.
It all boils down to definitions. Volunteer: one who enters into service of his/her own free will. That's what the dictionary says and that definition does not exclude those who care for their families. Family caregivers, though, can easily be overlooked in any discussion on volunteerism because they are self-organizing. They shouldn't be overlooked, however. They deserve recognition. Their service is invaluable.
So I want to value family service with this post. Let me offer a big thank you to those who give time and care to their families, so others don't have to.
And, Sandie and Donna, let me offer an even bigger thanks to you for pointing it out.
Share This