Roadpost #11: Bridges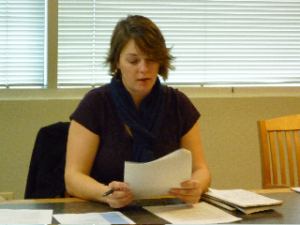 It's the end of the college year for students on Nevada campuses and also time to wrap up the student work groups that Nevada Volunteers organized at colleges across the state for their Higher Education Initiative. Stephanie has been part of this initiative to inspire more students to become involved in their surrounding communities, and she has been quite busy building a bridge.
Stephanie is a graduate student at the University of Nevada, Reno, and received her undergraduate degree in Massachusetts at a college that required at least 40 hours of community service to graduate. There were resources on that campus directed toward helping students meet the requirement, but Nevada colleges and universities have no such requirement. Stephanie says of Nevada, "I see the bridge that needs to be built between the campus and nonprofits, and it feels good to be working toward building that bridge."
From 2007 to 2009, 18.5% of college students volunteered in Nevada, compared to the national rate of 26.3%, so one of the first projects for the student groups was to survey their peers to gauge student interest in volunteering and find out what the challenges will be in getting more students to serve.
Stephanie was gratified to learn from the survey that college students really do want to volunteer. "Many Nevada students just don't know where to start, or who to call, or what they can do," she told me. That's why, as part of her service commitment, Stephanie initiated the development of a resource binder to collect information from nonprofits operating in the region around UNR, from Reno to Carson City to Fernley. UNR students, as well as university departments and individual professors, will be able to access contact information for organizations arranged by areas of focus—such as The Arts, Environment, Human Services, Education, Health, and Government/Advocacy.
"It is hard to find fruitful volunteer opportunities," Stephanie explained. "It takes some initiative and someone has to have the capacity on the other end." With the resource binder, students can more easily find those organizations to approach that match their interests and areas of study.
Stephanie's passion rests in helping the homeless, which is why she is volunteering at the Resource Center at Reno's shelter. This meshes with her current studies toward a graduate degree that will allow her to focus on housing issues, but her interest began when she spent a year as an AmeriCorps member for Habitat for Humanity. Though that work was building houses, her job, even then, was building bridges—between the volunteers and the project. She found, especially with women or young people who may not have had construction experience, "you had to pull them in and show them… here is what you can do."
Research has shown that the younger you start volunteering, the greater chance there is that you will volunteer on a regular basis, even into retirement. Stephanie is a living example of that. As a teen, a former teacher built the bridge for her, connecting her to an empowerment program for girls which involved her in community projects such as starting after-school programs in elementary schools. Now Stephanie is the bridge builder, creating a link that's been missing at UNR so meaningful connections between students and nonprofits can thrive.
And I think Stephanie will be building bridges that connect people, in one way or other, the rest of her life.
Share This