National Volunteer Week 2012

National Volunteer Week is finally here! Nevada Volunteers is so excited to celebrate the volunteers in Nevada that continue to make our state a better place to live!
This year, Nevada Volunteers will be sharing the great works of volunteers in Nevada, as well as volunteer coordinators/managers that continuously support those volunteers. Each day, we will be posting inspiring stories and pictures – keep checking our blog, Facebook, and Twitter for amazing stories!
Thank you to those that continue to give their time, money, and energy to organizations throughout Nevada! If you are not yet volunteering and want to get involved, visit nevadavolunteers.org to find volunteer opportunities near you!
___________________________________________________________________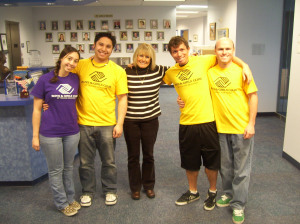 I have over 120 volunteers and they are mostly teens and young adults. Many of them come into the Boys & Girls Club to volunteer for school credits and really don't want to be here in the beginning until they see what is here for them, and that this Club is for them. I see them working with younger kids and loving what they do. They just want to help out as much as they can. Some of these young volunteers go to school, work, and still volunteer because they love it so much. When I call them to see how they are doing, the calls and emails I get back are often, "it is so nice to have someone who cares about what is going on in my life" –makes me feel that I am doing something really worthwhile. I can honestly say, for the first time in my life, and I have worked for many years, that I feel that I am really where I am supposed to be. I watch these young volunteers grow into great leaders with goals and a purpose in their lives because of what volunteering and the sense of what "giving back" has taught them. And you know, they make me feel pretty special too…..everyday.
— Gayle Farley, Volunteer Coordinator
Boys & Girls Club of Truckee Meadows
_______________________________________________________________
I volunteer at Nancy Gomes Elementary School in Washoe County with the Read and Succeed Program. I help Mrs. Morian's first graders learn to read. Reading is probably the hardest thing kids have to learn when they start school. Some kids just learn it naturally and for others it is a struggle. When we work one on one with them most pick it up and start to read and comprehend what they are reading. The kids are so thankful and such a joy to work with I go away with such a great feeling to have helped a child learn to read and open new doors for them.
— Eileen Way, Volunteer
Washoe County School District Volunteer Services
___________________________________________________________________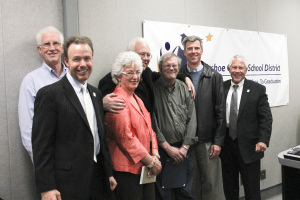 "At age 65, I've finally found my calling." This is the joy that RSVP volunteer Steve Burns has discovered through his work as an algebra tutor with students at Vaughn Middle School.
Steve had a rewarding career as a computer systems analyst with Boeing, but has found perhaps even greater satisfaction in seeing students achieve beyond expectation through his tutoring. Students' pass rate on the "Credit by Exam" skyrocketed from 23% to 70%. Steve loves tutoring so much he's there five days a week for five class periods! He was recently honored as the "Exceptional Volunteer" of the Washoe County School District board during its March 2012 meeting.
Ed Pearce of KOLO news 8 recently profiled Steve–you can access the video by opening this link and clicking on "Classroom Volunteers." The story has comments from math teacher Ron Jacobson and Principal Dr. Ginny Knowles in addition to interviewing Steve and showing him with students.
RSVP would like to help others find that spot where their skills and experience meet with community need like Steve has found his calling with middle school students. Contact RSVP at 787-1807 or rsvp@unr.edu or visit our website at http://www.unr.edu/sanford/programs/rsvp/ for more information.
_______________________________________________________________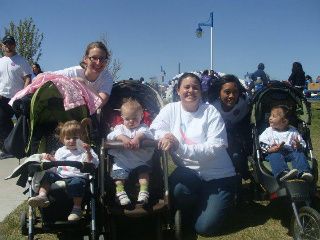 I love to volunteer for many groups in our area but my favorite is March of Dimes. March of Dimes' Mission of one day all babies will be born healthy touches my family personally. I am a mother of an angel and a NICU graduate. During these scary and overwhelming times in my life March of Dimes was there for my family though research, education, and support. It is because of this help and support that I received that I continue to support March of Dimes, even though I started supporting them I was 20 years old.
Some of the reasons I enjoy supporting March of Dimes is the amount of fun we have together as a group whether it's at the March for Babies and we are walking in the fresh air smiling and cheering or playing with babies to sharing a table at dessert night fundraiser. It was actually a March for Babies walk that I announced I was pregnant. By far one of my favorite memories. I also find it rewarding to help people who face the same issues as my family had and give those families hope for the future.
— Cheryl Guinan, Volunteer with the March of Dimes
_______________________________________________________________
Volunteers are the lifeblood of the Nevada State Museum (NSM) in Carson City. They generously donate their time and talents in countless ways. NSM volunteers are always willing to do extra training or take field trips to further their knowledge of Nevada's natural and cultural heritage. They give tours at the museum and State Capitol, bring museum programs to the community and schools, manage fundraising events, help in the Museum Store, and assist curators in history, natural history, and anthropology. In this hard times, volunteers serve as advocates for the museum to create positive change.
— Deborah Stevenson, Curator of Education
Nevada State Museum
_______________________________________________________________
There are so many reasons enjoy what I do at the VA, for almost 30 years now!
The devotion and dedication that our volunteers exhibit every single day, to the Veterans that we proudly serve is the main reason. I am so proud to serve along side of them to honor our American heroes!
And I do enjoy their individual stories and personalities – like I told my new staff when I hired them last year – 300+ volunteers = 300+ different personalities! And ALL of those personalities contribute in one way or another and they ALL add value to our program as we provide world-class care and service to America's Heroes!
— John Howard, Voluntary Service Coordinator
VA Sierra Nevada Health Care System
_______________________________________________________________
I work with second graders as a Read and Succeed Volunteer and, more than anything, what makes my volunteering so satisfying is their genuine enthusiasm when I enter their classrooms and their unconditional candor.
— Carolann Hayes, Volunteer
Washoe County School District
_______________________________________________________________
Being the Volunteer Coordinator for NV Energy has given me so many opportunities to work and volunteer with such an amazing group of dedicated individuals. Whether its cleaning up Mira Loma or Dorostkar Parks, baking desserts for Seniors, packing boxes for our Nevada Troops overseas, or just lending a hand when needed, employees of NV Energy continue to inspire me with their passion for others and willingness to make a difference in the communities we live in.
— Stefanie McCaffrey
Senior Consultant, Community Relations
NV Energy
___________________________________________________________________
Gwen Taylor, Executive Director, of ACCEPT, an organization that provides HIV specific prevention/intervention services to date, as well as substance abuse prevention, support and care services for individuals living with HIV or AIDS, and much more. ACCEPT would like to thank its volunteer coordinator and volunteers that work so hard on behalf of the organization!
Kelly Penfold, Volunteer Coordinator: Kelly volunteered for ACCEPT for two years doing any and everything I asked her to do from cleaning the office to outreach coordination. She was recently hired on as a part-time employee because of her loyalty and now is ACCEPT's Volunteer Coordinator.
John Torres, Volunteer: John volunteers on a regular basis for many activities. He is excellent with computers and recently restored a computer for us that would have cost $400.00 to fix. Not to mention, John is polite and unassuming and always a worker bee.
Doug Hodges, Volunteer: Doug is ACCEPT's Johnny on the Spot Man. He can fix anything, including installing lights, air conditioning units, heaters. You name it, Doug can do it. In addition to doing all of this, Doug also volunteers to do outreach in the community.
Jon Penfold, Volunteer: Jon volunteers for outreach events, group sessions and various projects. Jon is dependable and always willing to help whenever called upon.
Share This