Guest Post #5: The Most Rewarding Paths by Alexandra Ellison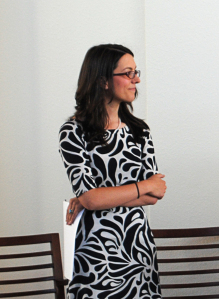 Our guest blogger, Alexandra Ellison, has been one of two Nevada Volunteers' AmeriCorps VISTAs this past year. She has been a passionate advocate of service on the UNR campus in Reno, working through the Honors Program to promote service and service-learning. Her many high-powered initiatives, including a student-faculty poetry project at the local homeless shelter, earned her the distinction of being the Nevada AmeriCorps VISTA of the year. Here is her reflection on what her VISTA service has meant to her:
The past year as a VISTA, working on the UNR campus and promoting service initiatives, has truly taught me more than I could have ever expected.
Convinced that I would go right to graduate school after graduating from Northwestern, I was nervous about taking a year off. But the "year off" has proven to be a year in full speed, filled with opportunities that graduate school would not have presented to me. So fast-paced was this year, that I fear, even now, I am not quite ready to hit the books again. Rather, I am hooked to community engagement, conversations with faculty and students, and working in the belly of what has become the education beast.
I have many frustrations with education today, but this year has taught me the rewards that come with chipping away at a seemingly insurmountable barrier. I have realized that sometimes our greatest frustrations in life can direct us to some of the most rewarding paths.
Now that I have experienced working in a university setting, specifically with student engagement, I have confidence that this would be a rewarding path for me to follow. However, there is still so much for me to learn. My next move is to teach at the high-school level on an 8-month teaching fellowship in Austria. I am eager to see what this next adventure will unveil, and to go forth with confidence, knowing that this year as a VISTA has equipped me with resourcefulness, intuition, professionalism and insight.
Share This