Great Basin Institute's NCC knows the lay of the land!
Nevada Conservation Corps AmeriCorps Program at Great Basin Institute

Nevada Conservation Corps harnesses the energy and idealism of youth to meet the needs of Nevada public lands and communities. As a federally-funded AmeriCorps program, the NCC promotes ecological literacy through field research and direct conservation service. Our statewide program transcends racial, ethnic and economic barriers by creating a cadre of corps members comprised of diverse backgrounds, drawing a broad-based national recruitment process. By uniting environmental resources from federal, state and county agencies, the NCC provides students and young professionals opportunities to make meaningful contributions toward protecting and conserving Nevada's natural heritage, while also gaining valuable work experience in the natural resource management field.
In the first quarter of GBI's 2011-12 grant, AmeriCorps members have already accomplished a lot!
Recruited 90 volunteers who have already volunteered 3,117 hours
Placed 8 environmental internships
Restored or Improved 440 acres of public land or waterways
Built or Maintained 41 miles of trails
Amount of 2011-2012 funding received through Nevada Volunteers:
$613,695
Number of AmeriCorps members serving in rural Nevada: 143 members
Agencies with increased capacity to meet community needs because of AmeriCorps members service (host sites):
BLM California Trails Center
Friends of Red Rock Canyon
Galena Creek Visitors Center
Great Basin Institute/Desert Tortoise
Great Basin Institute/Nevada Conservation Corps
Land Health Assessment
Nevada EcoNet
Tahoe Resource Conservation District/CA Tahoe Conservancy
U.S.F.S. Lake Tahoe Basin Management Unit
University of Nevada, Reno-Art Department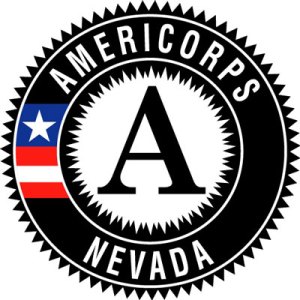 Share This