City of Las Vegas Creates Change Through Service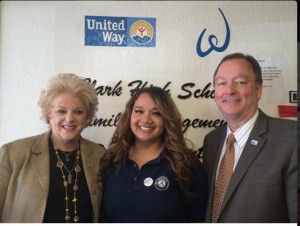 Across the nation organizations are tackling complicated issues with volunteerism and engaged citizenry. This blog is an opportunity for us at Nevada Volunteers to share with you exemplary leadership using volunteerism as a solution to Nevada's unmet needs.
I recently had the opportunity to talk with Brian Knudsen, the City of Las Vegas Community Resources Manager, about an initiative in Southern Nevada, a partnership of organizations, volunteers, and national service programs working together to create change. Downtown Achieves is a group of more than 200 partners are participating in the collective impact approach to ensuring Academic Success for Every Student.
Here Brian shares some of the key points of the Downtown Achieves Collective Impact project:
What is Downtown Achieves?
Downtown Achieves is a Collective Impact Approach facilitated by multiple government, non-profit, and private sector partners.
By utilizing children and schools as a measure of success, Downtown Achieves is intended to drive positive change in public and private systems to ensure the success of students in schools in and around the downtown core of Las Vegas.
How does Downtown Achieves define success?
Success will be defined through a variety of different measurement tools that gauge efforts in the sectors of:
• Education
• Health & Human Services
• Arts & Culture
• Natural & Built Environment
• Jobs & Economy
Tell us a little bit about how this group formed and who is involved?
A small group of partner organizations (City of Las Vegas, Clark County School District, Public Education Foundation, Teach for America, Communities in Schools, The Andson Foundation) began meeting on a regular basis to identify a targeted approach for achievement in downtown schools.
Concurrently, community leader Gard Jameson organized a small group of individuals – The Jameson Fellows – to participate in a leadership program for leaders in the sectors identified above. The intent was for these community leaders to drive systemic change by supporting the efforts of the Las Vegas Healthy Communities Coalition (LVHCC), an effort supported by the United Way of Southern Nevada. . The LVHCC was working towards the identification of a pilot project to demonstrate the value of a Collective Impact Approach.
The three separate collaborative efforts have joined forces and are supporting Downtown Achieves.
Over the past several months, the collective effort has grown too including many more individuals and organizations who have demonstrated an interest in participating in the collective impact approach to ensuring Academic Success for Every Student.
All good things take leadership; can you share with us the City of Las Vegas' involvement?
The City of Las Vegas, acting as the backbone organization for Downtown Achieves, has provided the support necessary for city staff to facilitate working groups of educators, students, and parent advocates. These working groups are typically after the working day and require time off the clock to ensure success. In addition to direct stakeholders, indirect stakeholders, a variety of other individuals and organizations are volunteering their time, treasure, and talents to ensure children in Las Vegas have the best opportunities possible.
Interested in learning more about Downtown Achieves? Visit www.downtownachieves.org.
Thank you to Nevada Volunteers' Executive Director, Amber Martin-Jahn, for conducting this interview and writing this guest blog!
Share This