Carson Valley Art Studio Tour
Carson Valley Art Studio Tour
(CVAST) October 8-10, 2021
Carson Valley is putting on a show, and we don't just mean our glorious Fall colors! The Carson Valley Arts Council is hosting the first annual Carson Valley Art Studio Tour next October 2021, and we are seeking input from interested fine artists at this time. All fine art media will be considered, and shared studio space will be coordinated by the CVAST team.
Along with featuring some of the finest art and art demonstrations, we plan to include live music at the studios. We are looking at a wide variety of ways to promote this event throughout the Western Region. Support the arts by supporting one another and doing it in a place that is just one step away from heaven, especially in the Fall.
To learn more, artists should go to www.cvastour.org or reach out to Carson Valley Arts Council at  info@cvartscouncil.com / 775-782-8207.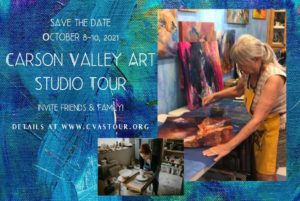 Share This