AmeriCorps Week 2013: The Start of Something Good!
After graduating from the University of Minnesota with a degree in Environmental Studies in the spring of 2010 and not wanting to just jump right into a career, Ben Nicklay looked for a way to gain experience in the field. He searched through numerous AmeriCorps positions and found an opportunity to serve through the Great Basin Institute Nevada Conservation Corps that would allow him to travel and work in the unique outdoors of Nevada.
Ben became an AmeriCorps*State member with the Nevada Conservation Corps and was put on a crew of about ten others outside of the Las Vegas office. His crew consisted of people who had never camped before, people who had majored in English in college, to those who had worked in other conservation corps. Despite all of their differences, they bonded fairly quickly. While on the crew, Ben helped build and maintain trails in the Spring Mountains National Recreation Area. It gave him pride in knowing that his hard work would last for years to come. They worked on a variety of other projects around southern Nevada until spring including riparian restoration, habitat improvement, road decommissioning, and invasive species removal.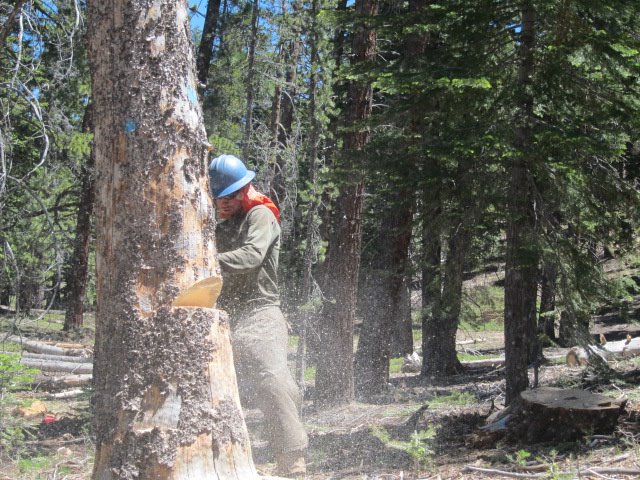 Ben's favorite part of his service were the friendships that were formed and the personal growth that followed. It was a unique experience having to camp in the field while working and living with the same people four days at a time.
Ben learned the importance of working hard and creating quality work. It was his year in the AmeriCorps program that made these principles to live by. He was part of creating a legacy that would last for years.
After his year of service, Ben stayed on with the Nevada Conservation Corps as a supervisor of a crew. His experience was rewarded by enhancing the experience of a new group of volunteers by sharing my knowledge, skills, and passion with them.
In the fall, he decided to try a different side of conservation work and took a Great Basin Institute Research Associate position as a Restoration Specialist contracted to the Bureau of Land Management (BLM). He was able to take the knowledge and skills he learned from my experiences in the Nevada Conservation Corps to use supervising the restoration work for all of Clark County, Nevada. He monitors old restoration sites and implements new projects in disturbed or destroyed habitats. He still gets to connect and share experiences with the Nevada Conservation Corps crews because they do the initial group work.
Ben is not quite sure he found his career, but he knows for sure that he has found his passion. Doing conservation work and sharing his enthusiasm for it with others is very rewarding and he plans on staying in this line of work. Down the road he sees himself focusing more on the larger picture and studying sustainability, water, food, and energy issues.
Through his year in AmeriCorps, he learned more about himself and gained so many new and relevant skills. Some of the important things he learned the meaning of a great and inspiring leader, the value of physical labor, the importance of quality work, and the worth of good friends. The people he met and friendships he made will also continue to be great resources long into the future.
Ben's advise if you were looking at joining National Service would be to allow yourself to grow and develop a deeper sense of self. Not only does joining National Service provide a great service to the people of this country, but it will most likely be one of the most rewarding things you will ever undertake in this life.
To find out for about AmeriCorps in Nevada, visit nevadavolunteers.org.
Share This