AmeriCorps Week 2013: One Family's Love of AmeriCorps
During AmeriCorps Week 2013, it is Nevada Volunteers' privilege to share the stories of AmeriCorps members throughout Nevada. We hope that you'll enjoy them and get a glimpse into why AmeriCorps members continue to serve multiple terms, how AmeriCorps helped them determine their pathway, and what an impact they are making in our Nevada communities!
Thank you to Ken Tran at AmeriCorps Alums and Brandon Greene (Janet's son) for sharing the story of Janet Hughes, an AmeriCorps member serving her fourth term through the United Way of Southern Nevada.
I worked for the Clark County School District for 34 years as a classroom teacher, ESL instructor, Reading Specialist, after school tutor, and Speech Pathologist. After my first year of retirement, my son Brandon Greene, called me excited about starting his year of service of as an AmeriCorps member and encouraged me to also serve as an AmeriCorps member. I went online to the AmeriCorps website, and applied after discovering that there was a position available at Desert Rose Adult High School with Dr. Sandra Ransel.
I applied for this position because I had worked with Dr. Ransel before as an evening English as a Second Language teacher (ESL) and it offered the chance to work with high school students and adults who were working on obtaining their high school diploma or GED. It also afforded me the opportunity to work in a school setting not as a teacher but as part of the Ready for Life Center at Desert Rose High School as the Coordinator.
This appealed to me because I could indirectly have an impact and make a difference in another person's life by helping them to overcome some of the barriers which had contributed to their being unable to complete their education. I have continued to serve as an AmeriCorps member at Desert Rose because I continually see the potential of others if they're offered the help they need.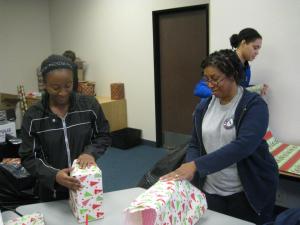 During my service, I've been able to see many students overcome their challenges to succeed. I have seen a homeless student find shelter in a center which not only provided shelter but also transportation to and from school, job training, social skills, and tutoring. This student passed their proficiency exams and graduated!
Another student was hungry and able to come to the One Stop Center on a weekly basis to pick up a bag of food for the weekend. Today an adult student needed a copy of her marriage certificate in order to get her NV identification card; she explained that she was just learning to read and asked if I could help. To her, learning to read would make a difference in her life. I helped her go online to order a copy of the document she needed as well as provide some reading materials that I had used when teaching reading in an elementary school.
I have continued to serve as an AmeriCorps member because every time I have been able to help someone overcome a barrier which was impeding them from reaching their dreams, I feel a deep sense of thankfulness that I was able to make a real difference in their life. Sometimes the difference was simply just listening to their story and letting them know that someone cared. I have served because:
There is no better exercise for your heart,
Than reaching down and helping to lift someone up.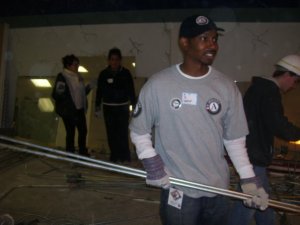 Brandon Greene engaged in AmeriCorps to help in his community before leaving for law school. As a part of his service, he created a truancy prevention program working the UNLV Gear Up at Western High School. His decision to work with kids in a high school was inspired by his mother who was a teacher. The best part of his AmeriCorps service was being able to get a group of students reengaged in school. He also made friends for life through the benefit of being part of a national network. To this day, Brandon has focused on the advocacy and policy efforts in law school on educational issues and will continue to do so upon graduation. He's inspired by his service and by his mother Janet Hughes, who at the time of his law school graduation will be completing her fourth year of service.
Share This