Amass for AmeriCorps – Field Update 7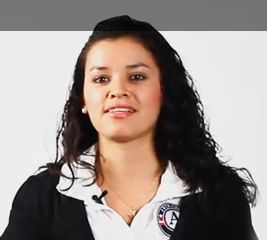 What inspires Celinda Pena to volunteer? "It's the faces and the reactions I get from the people that I touch the lives of."
Celinda was born in San Isidro, Cabañas, El Salvador. Her family relocated to Las Vegas in 1993 when she was 4 years old. After graduating from Desert Pine High School in 2007, she began classes at UNLV and joined AmeriCorps to serve through the United Way of Southern Nevada program. "AmeriCorps is a perfect opportunity for me to develop and grow as an individual. I started when I was 17 and now I am 21. I have really seen a big difference in how I touch people's lives."
Celinda decided to serve a second AmeriCorps term because she enjoyed being able to make a difference. She became a Luz Community Development Coalition AmeriCorps member in October 2009 and is currently the volunteer coordinator at Luz, where she recruits and manages a diverse group of volunteers that serve a number of area nonprofit organizations. Many of her volunteers are college students.
"I joined AmeriCorps because I really wanted to gain experience within the community and provide service. After AmeriCorps, I want to be a Human Services Counselor for at-risk youth. My national service gives me lots of opportunities to practice."
Celinda is presently a junior at UNLV majoring in Human Services Counseling. We hope that her national service experience and the two AmeriCorps Education Awards she's earning will help her to graduate successfully and head toward graduate school.
Nevada Volunteers is proud to spotlight Celinda's enthusiasm and to recognize her for making a difference in Las Vegas, but the AmeriCorps programs that have given her the chance to succeed need your help to continue. Our "Amass for AmeriCorps" campaign is asking for just $10 from 1,000 friends to reach our $10,000 goal and keep Nevada's AmeriCorps programs funded through 2011. Consider donating, and then spread the word for us through FaceBook and Twitter.
Donate Now!


Share us on Twitter!
Share us on Facebook!

Share This