Amass for AmeriCorps – Field Update 6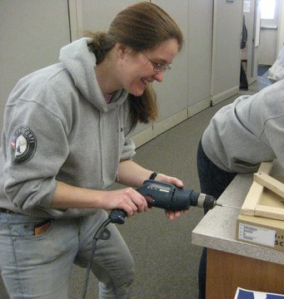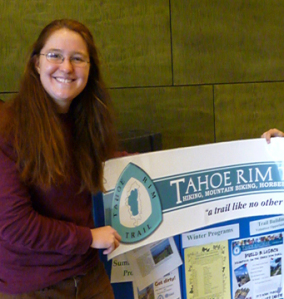 A willingness to work hard and a great attitude – that is what Amanda Schwantes brought to her AmeriCorps year with the Parasol AmeriCorps Team in Incline Village, Nevada. Amanda took charge of her assignment as a volunteer recruiter for the Tahoe Rim Trail Association with gusto.
For the Rim Trail, a scenic trail system along the crest of the mountains surrounding Lake Tahoe, it was a time of major expansion. That meant finding more volunteers, lots of them. It was a huge job. Amanda understood she had to get out of the office and get her hands dirty—literally, working side-by-side with the volunteers on the trail, getting grubby, sharing blisters and jokes and small talk. She realized the secret to finding and keeping volunteers was the personal touch, letting volunteers know their effort would be recognized and appreciated. Attending every tabling event available in the Reno-Tahoe area, she reached out with a big smile and passion for the hard but gratifying work the volunteers would find if they signed up. The result: Amanda recruited more volunteers than ever.
Amanda stepped into her AmeriCorps service already having the work ethic and mindset to succeed. She accepted every task no matter how big or small, and as her supervisor says, "created a learning experience for herself through each accomplishment." What Amanda gained from her year was an opportunity for her potential to blossom into real-world accomplishments. Amanda is now working in Death Valley National Park, doing interpretation and greeting visitors with the same enthusiastic outlook that she used so well to get those trails built.
Nevada's excellent and critically-needed national service AmeriCorps programs are at risk of being eliminated due to lack of required matching funds. This is a plea to our friends to help "Amass for AmeriCorps" and raise $10,000 by the end of the year. This is what we need to keep programs like the one where Amanda served funded through 2011. That's just $10 from 1,000 friends.

Share This